After the many hours I've spent with Carisa's voice in my head (via
Shezam, the podcast that hopes to make itself obsolete
), it is delightful to know she's as wonderful in person as she sounds in the podcast!
Those of you who know me, know that I arrive early to magic lectures with the specific intent of securing a back row seat. Imagine my surprise when, just before the lecture started, we all shifted 180 degrees and I found myself in the front row! I'm delighted it happened. It was great to have a clear view for such an inspiring lecture!
Generally speaking, men seem less patient listening to magical ideas they can't directly apply, than women are.
Carisa created an effect that may make it worth getting one's ears pierced.
Her "pickpocketing" coin routine is fabulous.
Her insights around creating a fool proof structure for an effect (and a performance) were well thought out and supported by extensive field testing.
She has put a tremendous amount of thought and effort towards developing concrete metrics by which to measure the success of her performances. ("What gets measured, gets managed." -- Peter Drucker)
It will come as a surprise to no one, what the potato chip flavour or choice was for the pseudo-ex-pat lecturer: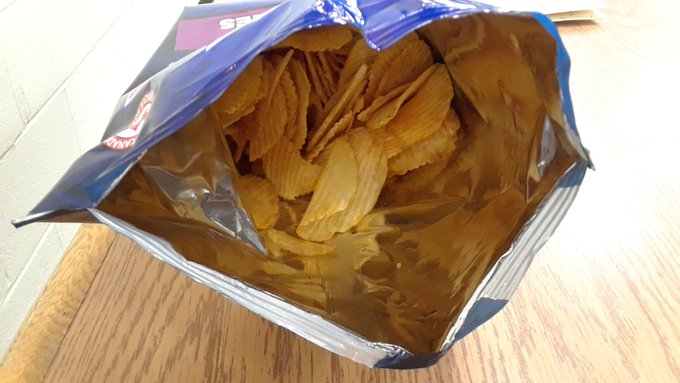 To borrow a phrase from the medical community, this data-driven approach clearly makes her an "evidence-based" performer. This approach serves her well.
She personifies the advice she gives in the podcast with respect to audience volunteer interaction. I look forward to a day when every performer treats their volunteers with this level of respect.
She had excellent thoughts on the parallels of comedy and magic.
It was wonderful to learn about the evolution of the book production that made its way to Penn and Teller: Fool Us!
We were treated to the distillation of $32K worth of art school into ~30 minutes with a crash course in Meta-Modernity. Lots of food for thought.





And of course no magic lecture is complete without a deck of cards. Nothing like a variation of a Tommy Wonder routine by Carisa and Kayla Drescher to end the night!
Thank you for an excellent lecture Carisa!
Congratulations to Bob Taylor, who was awarded honourary lifetime membership!
— Canada's Magic (@canadasmagic) February 19, 2020
The Sid Lorraine Hat and Rabbit Club has
posted some photos on Facebook
. Canada's Magic has some
photos on Instagram
.
Here's what James Harrison thought about the lecture: