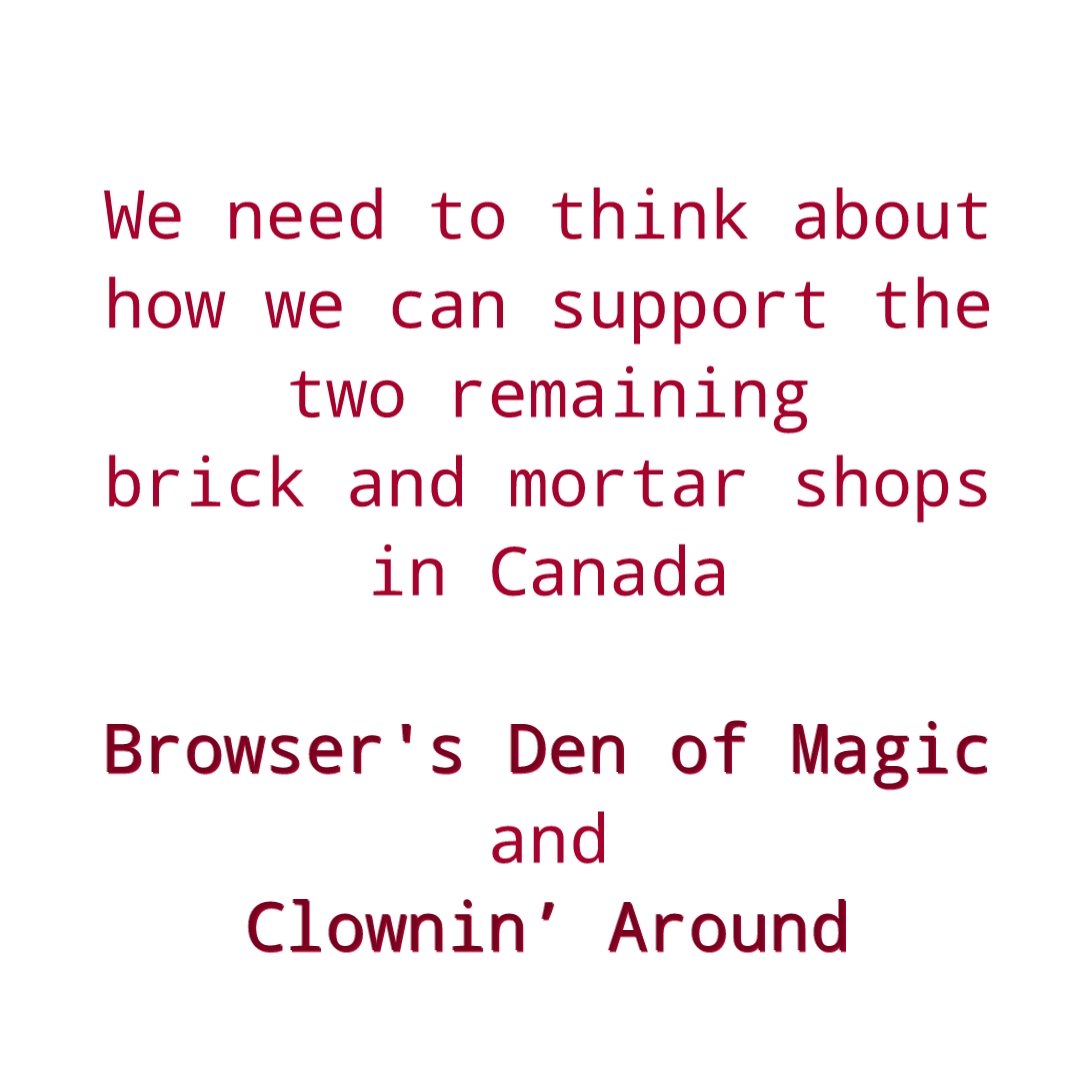 The following is a guest post from an author who wishes to be known as The Magic Demon.


--

"I CHALLENGE YOU!"

AN OPEN LETTER
TO ALL MEMBERS OF CANADIAN IBM RINGS
& TO MEMBERS OF CAM
& TO CANADIAN MEMBERS OF SAM:

from The Magic Demon
Exclusive to Canada's Magic

I've always considered you among the elite of magic enthusiasts, hobbyists, amateurs and professionals.

You love the art of magic enough to have joined an organization dedicated to preserving its history, encouraging its present and striving for an even more illustrious future.

I bet most of you have had a positive experience visiting a brick & mortar magic shop once upon a time when you were young. That awesome visit - the first of many, no doubt - cemented what has become a lifelong joy and passion.

And many of you are waiting for the end of our current pandemic before you take a short subway trip - or a long long car ride - or short airplane ride - to your nearest brick and mortar magic shop to once again bask in its unique joys and pleasures.

Doubtless some of you will want to take along your friends or family members and double or triple your fun by sharing the magical experience with them.

But what happens if there are no more brick & mortar magic shops left to visit after the pandemic?

Oh sure, you'll always be able to order from some really great online outlets. But it's never going to be the same experience as standing in person drooling over a display case full of the latest effects, or sharing tips and stories with fellow visiting magic enthusiasts, or enjoying the truly memorable fun created by the proprietors of a real dedicated brick & mortar magic shop.

As you have read on this site, we in Canada are now down to just two dedicated brick & mortar shops. Two to serve a country of almost 38 million! Toronto alone until recently used to have two - and had even more in its distant past.


Unless we act now to safeguard our remaining precious brick & mortar shops there is every chance they may not survive to serve us again when better and more normal days return.
That would make Canada truly less of a magical place.
And so, therefore, I CHALLENGE YOU, to show your love and support for the art of magic and its well-being in this country - as personified in its remaining brick & mortar shops, by making a purchase right now - and later again this year - from either the Browser's Den of Magic in Toronto and/or Clownin' Around on Granville Island in Vancouver BC, whichever is your closest brick & mortar shop.
I am not asking you to do anything I have not already done myself. I have recently purchased a couple books from
Clownin' Around
, AND a gift certificate from the
Browser's Den
.
There's still no guarantee that what we all can do will be enough - but at least if we try there's always a good chance. And a good chance is better than no chance at all.
So...
Are you magician-enough to magic-up and accept this challenge?
The future landscape of magic in Canada may well depend upon your actions today.
LATEST STATUS UPDATE: As of this date, the
Browser's Den
in Ontario is currently only open via phone, email and their website for in-person curbside pick up or snailmail service.
Clownin' Around
in BC is currently open for a limited number of local-health-authority-region-only in-person mask-wearing customers observing social distance, as well as via phone, email and their website for snailmail service. Check their websites for any further updates and developments.
----
Full Disclosure: The Magic Demon does not work for, nor own any part of, any remaining brick & mortar magic shop - but has spent many happy hours in both and wishes that they may survive the pandemic along with the rest of us.


Thank you The Magic Demon for championing brick and mortar magic shops and for guest posting at Canada's Magic!